Searching for a truly unique fishing experience? Don't overlook the opportunities of Pacific halibut fishing at British Columbia's Haida Gwaii area.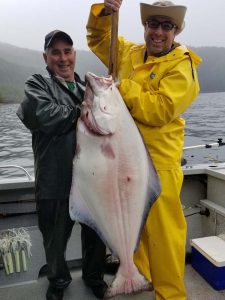 Halibut is part of the flounder family, the largest flatfish in the Pacific. Pacific halibut fishing is one of the most exciting adventures for any angler, and it doesn't take years of experience to appreciate.
The Pacific halibut is truly a whopper, weighing up to 200 pounds and more than eight feet long. The best table-fair halibut is under 100 pounds. That's almost twice the size of the legendary Chinook salmon, which runs just shy of six feet long.
Canada is known for its outstanding salmon runs – but record Pacific halibut catches also take place here every year. British Columbia's Haida Gwaii archipelago is a truly unique halibut habitat. If you've heard big things about Alaska halibut fishing, you simply can't miss the chance to see what Haida Gwaii has to offer.
Three of the biggest reasons halibut fishing in Haida Gwaii Canada stands out
Canada's Haida Gwaii Gives Alaskan Halibut Season a Run for Its Money
Halibut season in Alaska runs about five months from mid-May to mid-September, but only July and August offer peak fishing. On the other hand, Haida Gwai will delight you with brisk fishing for halibut, ling cod, yellow eye, and bottom fish all through the season. There's virtually no downtime from morning to night!
Sport fishing regulations in Alaska limit catches per day, especially for non-residents. Even if you find the best spot around – and it's not too crowded – you will often be done for the day in just a few hours. Try halibut fishing in Haida Gwaii and it's not unusual to bring home 50 pounds of catch a day.
Haida Gwaii Halibut Fishing is Friendly for Vacation Travelers
In the summer months, Haida Gwaii is a few crucial degrees warmer than the most popular halibut fishing villages in Alaska. Plus, fish are highly active along our coastal pinnacles and reefs, so you will spend a lot less time getting to and from fishing spots and a lot more time landing the day's Pacific halibut catch.
When you choose Haida Gwaii fishing with Queen Charlotte Safaris, you can enjoy a rich and varied landscape like nothing you've ever seen. You'll spend comfortable nights and luxurious mornings at our cedarwood lodge right on beautiful Shingle Bay. Far beyond any usual Alaska hotel, our guests make memories that last a lifetime.
Canada's Pacific Halibut Fishing Means Delicious Meals
Pacific halibut fishing isn't just about fish stories – it also means mouthwatering meals for a fitting end to a day full of adventure. Pacific halibut is the ultimate fish for anyone who doesn't like a "fishy taste": It's mild and sweet while remaining satisfyingly thick and firm, ideal with bold citrus and herb seasonings.
With Queen Charlotte Safaris, visitors to Haida Gwaii will enjoy spectacular seafood delights. In addition to halibut, our guests feast on a full selection of crab, lobster, steak, and indigenous fish with all the trimmings. You will go to bed happy and wake up raring to go for another invigorating day out on the water.
Nothing Compares to Halibut Fishing in Canada – Let Us Show You Why
Don't let Pacific halibut fishing pass you by. Alaska is classic, but British Columbia is unique. The team at Queen Charlotte Safaris is professional, sincere, and always ready to meet new friends. We'll be delighted to show you all Haida Gwai holds in store so you can see for yourself what keeps anglers coming back.
Contact us today to discover the best Pacific halibut fishing in Canada.