Just like the prizes they seek, the most dedicated anglers migrate all over the world in search of the best salmon fishing.
Increasingly, that has meant going to the ends of the Earth – the last unspoiled places – looking for a unique salmon fishing resort that lives up to the name. For many anglers, that ideal land is somewhere pristine and quiet, where crowds of people never outnumber schools of fish no matter the time of year.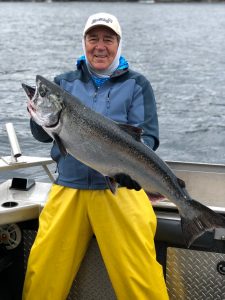 British Columbia, Canada, may not seem like the most exotic place on the top salmon fishing list. Take a second look, though, and you'll see ours is truly the last frontier for salmon fishing. And at Queen Charlotte Safaris, we think we have a pretty good claim as a truly unique salmon fishing resort.
Let's take a closer look.
The World's Best Chinook Salmon Fishing
A unique salmon fishing resort should have unique salmon – and Queen Charlotte Safaris stands out.
The Chinook is the largest species of Pacific salmon. An adult Chinook salmon averages two feet long and 30 pounds, but record catches can grow up to 4.9 feet and 129 pounds. Chinook salmon meat is red and softer than other wild salmon meat, making it a pleasant and inviting seafood main that goes with many dishes.
British Columbia's breathtaking Haida Gwaii Archipelago is a magnet for these salmon, drawing them from the Bering Sea each March to arrive in April. Once there, fishing season stretches seven whole months – more than three times as long as the fabled Alaskan salmon season.
Almost every major salmon run from the Skeena, Frasier, and Columbia River systems on Vancouver Island's west coast must pass through Haida Gwaii on their annual journey. Cartwright Sound spends the whole season packed with salmon, giving intrepid anglers plenty to do day and night!
No other salmon fishing resort can promise virtually no downtime between salmon runs – because there is simply no place on Earth quite like Haida Gwaii. From beginners to experts, anyone can enjoy a salmon fishing resort where hardly a week goes by without a record catch for the year.
And what other salmon fishing resort also offers ample opportunity to catch halibut, ling cod, yellow eye, and bottom fish? Our calm coastline waters are dotted with reefs used as habitats by a diverse array of desirable fish. From May through September, visitors can catch delicious halibut – the Pacific's largest flatfish – with no quota.
Fresh-Cooked, Chef-Prepared Meals in a Fishing Lodge You'll Never Forget
Our lodge is your home away from home, including private washroom and shower with each guest room. Each morning you'll wake to the view of golden sun on picturesque Shingle Bay. After a long day out on the water, a unique salmon fishing resort should offer a comfortable place to rest and tell all those fish stories!
But that's not all: Every evening is capped with an unforgettable chef-cooked meal.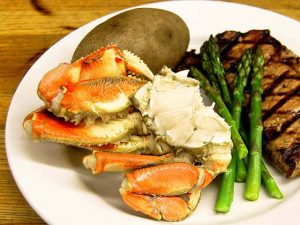 From lobsters, clams, oysters, crabs, steak – and, of course, every variety of Haida Gwaii fish – each meal is prepared from the freshest and finest ingredients right in our kitchen. Years of experience mean every delicious dish is handcrafted to tantalize your palate. No matter what the day's catch, you'll never go to bed hungry!
And there's one more thing we should mention about a unique salmon fishing resort: An all-inclusive, no strings attached experience so you can focus on fun. That's our promise, and that's just one more reason you'll want to come back again and again. Discover Haida Gwaii with us. Contact Queen Charlotte Safaris today.