Haida Gwaii sits off the northwest coast of British Columbia. The 'Misty Isles' is a remote archipelago, home to the Haida First Nations, and features stunning mountains, rainforests, and water bodies.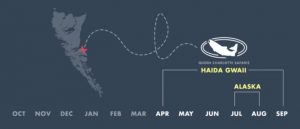 You can catch salmon and bottom fish such as Pacific halibut, lingcod, and various species of rockfish in the network of fjords, inlets, channels, and rivers, but deep-sea fishing is where you want to be. So, apart from the enchanting inland features, what makes deep sea fishing in Haida Gwaii special?
Five Reasons Why deep sea fishing in Haida Gwaii is special
Location
You'll struggle to find a fishing spot that is as abundant in deep sea fish as Haida Gwaii. It sits close to the continental shelf. Cartwright Sound is the only area in Haida Gwaii that provides great fishing opportunity, yet still has a number of areas that offer protection from the Pacific winds. Because of that, one can easily fish throughout the season and never miss a day.
Take the Salmon: Haida Gwaii sits smack in the middle of the salmon migration route. That means it's the only point where millions of salmon must pass through each year, so you can expect consistently high catch levels.
What also separates Haida Gwaii from other fishing destinations is its unique geographic location. The islands create a 200 mile long archipelago about 90 miles off the mainland, essentially forcing every salmon in the Pacific Northwest to bypass them on their annual migration. It's important to point out that all salmon caught in the Pacific off these island coasts are transitory fish. That is, they are not the terminal fish finding their way up river in Northern California, Oregon, Washington, and British Columbia. There is a big difference in their fighting ability and, more importantly, taste and nutritional value.
Once you're done fishing, Queen Charlotte also offers guided land tours to many locations such as:
North Beach
Nikoon Park
Tow Hill
Gwaii Haanas National Park
The Haida Heritage Center
Agate Beach
Crystal Cabin
And more…
Abundance
Abundance is the name when you're out deep sea fishing in Haida Gwaii. Millions of salmon go through the area searching for feeding grounds, while other types of fish are in plentiful supply. 
Besides, expect to find all manner of fish when you're out deep sea fishing in Haida Gwaii, including:
Lingcod
Halibut
Salmon
Rockfish
Ease of reach
To qualify as deep sea fishing, you must fish at depths of at least 30 meters. In most cases, you would have to travel extensive distances off the coast.
Not so with Haida Gwaii, as you can happily fish for many fish species approximately 20 miles offshore. It means you can start deep sea fishing in Haida Gwaii 45 minutes after leaving the dock.
Service and facilities
Remote as it is, Haida Gwaii has a commercial airport in Sand Spit, serviced by daily flights from Vancouver BC. This is a Dash 8 aircraft operated by Air Canada. Private planes are welcome.
Our beautiful, modern lodge built from Sandspit Cedar trees overlooks the picturesque Shingle Bay Harbor.  We will welcome you at the Sandspit Airport to transport you to the lodge that is three short miles away.  The quaint town of Sandspit has only 11 miles of paved road, 2 stops signs and more eagles than residents.  Once you arrive at the lodge you will settle in, enjoy some delicious hors d'oeuvres, take a walk on the beach, play horseshoes, shuffleboard, or just relax. We proudly serve many dishes indigenous to the islands prepared by our seasoned chef and team.  After dinner step outside onto our spacious, relaxing deck and watch the eagles soar above you. Our guest's rooms accommodate two people per room with private washrooms and showers.  You will enjoy the wonderful atmosphere, our friendly staff, and their attention to detail.  
Seclusion
Ask most anglers what's included in their ideal fishing destination and you can bet it's probably be a pristine and quiet place. Haida Gwaii remains to be an untouched, unspoiled region of the world.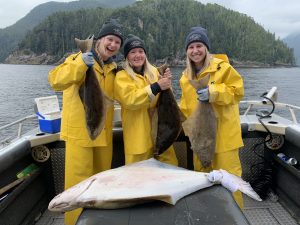 Seated in a remote area right on the border between Canada and Alaska, you can rest assured visitors will not outnumber fish!
There are plenty of reasons why deep sea fishing in Haida Gwaii is special. It is easily accessible and has a variety of fish and fun. Further, it's in a great location where lots of fish congregate and migrate.
Contact Queen Charlotte Safaris today to book the opportunity to experience the exceptional deep sea fishing in Haida Gwaii.
Valerie Hoperich