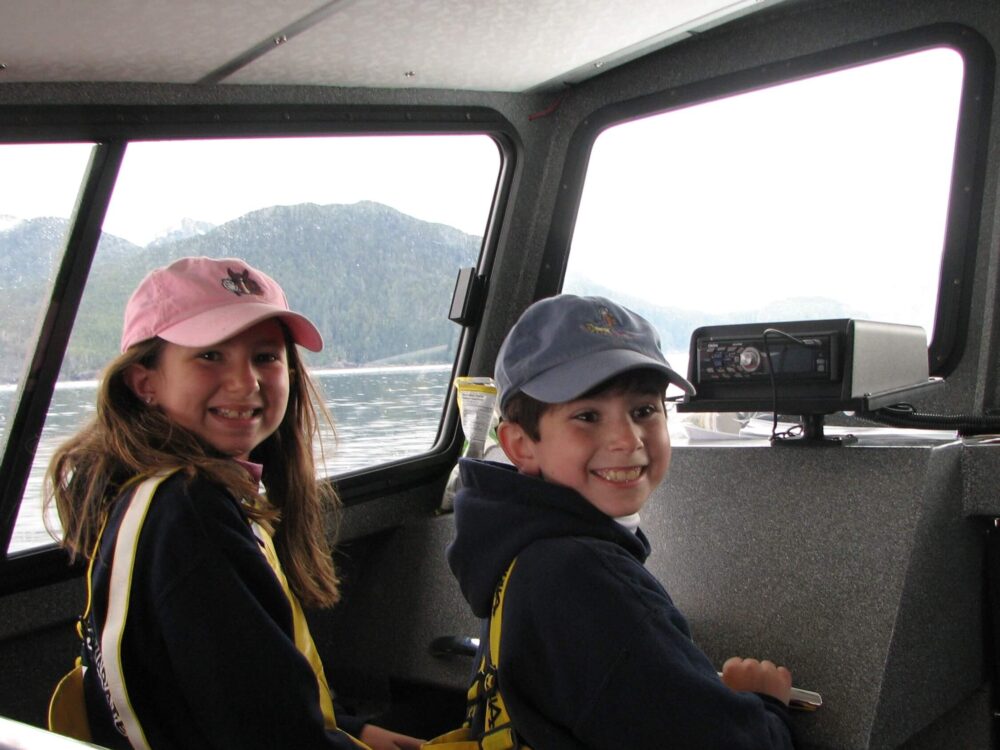 The first time I visited the Queen Charlotte Safaris I was eleven years old. It was my first time out of the U.S. and the first time I was going on a trip that centered around fishing. I grew up fishing as it was something that my dad made a priority to do every time we went camping at a lake. I enjoyed fishing, but it wasn't something that I really loved. What I really loved was being with my family and having fun experiences. And this trip I experienced with my grandparents, parents, and brother. My grandparents and my dad had been to Queen Charlotte Safaris a few years prior, and it was a place that became very special to the three of them. Especially my grandfather. For him, fishing wasn't just a hobby, fishing was part of his personality.
Flying into Sandspit was a unique experience. We were on the smallest plane I had ever been on, and probably the loudest, too, since it was a propeller plane. When we got off the plane and made it inside the one-gate airport, Valerie was waiting there for us with a warm smile and greeted us like we were family. Valerie's warmth translates into the lodge as it felt like coming home when I first stepped inside. Comfy couches, big windows, and friendly faces everywhere from both the staff and other visitors.
The first day of fishing we woke up bright and early. Or I guess dark and early since the sun wasn't up yet. I loved the yellow coveralls and jackets and the big rubber boots. I felt like an official fisherwoman! I was on a boat with my grandparents, dad, and brother and it was an unforgettable day. Not only did we catch some amazing fish (the biggest fish I've ever caught since the only fish I'd caught previously was rainbow trout), but we also saw some amazing things! I saw the stunning greenery of islands, too many bald eagles to count, and a humpback whale!
One of the best parts of that day was coming back into the lodge. We got to share stories with other people that were on different boats, talk about what we caught that day, and ate a delicious meal that was ready as soon as we were settled in. As a kid, I didn't love meeting new people, but I genuinely enjoyed getting to sit with strangers at the dinner table and getting to know them. Every single person that I've met at the lodge has had such an interesting story and a unique perspective. It was a great learning experience for me, and it helped encourage me to talk to new people.
On another day of staying at the lodge, my brother and I didn't go fishing, and instead spent the day with my mom and Valerie touring the island. We drove down the road to different rocky beaches, and even had to stop the car to let a black bear cross the road! After exploring the different rocky beaches, we went back to the lodge for lunch and some down time in the lounge area working on puzzles. While I was waiting for the rest of my family to come back in from fishing, I went across the road to the beach to look for sea glass and seashells. I picked up some amazing finds: large pieces of different colors of sea glass and so many different types of whole shells! It started my collection of sea glass and shells that I have in home today.
I've gone back to Queen Charlotte Safaris twice since then, and each time I counted down the days until I arrived and cried when I had to leave. The lodge is my home away from home and I have so many amazing stories and pictures to share from my experiences there. I never got to go back with my grandparents and my grandfather has since passed on. But it will always hold a special place in my heart that I got to have this experience and I will forever be grateful to my parents and grandparents for sharing it with me. I am so proud and excited that I now get to work for such an amazing lodge and an incredible human and I look forward to returning to the lodge this summer.